THE INDEPENDENT
Infinity's End?
Demise of high-minded car graveyard could mean more autos on street
By Sara Zaske
Tuesday, February 4, 2003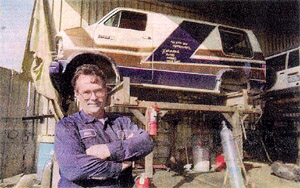 EAST PALO ALTO -- "I am the last of the Mohicans," Mike Baker said on a recent afternoon as he strolled through his junkyard forest of stacked car shells and racks of used fenders and motors.
The self-proclaimed "coroner of cars," Baker, 53, is battling to preserve his auto dismantling business. Infinity Salvage, which is in danger of being run out of town by a struggling city's dreams of economic revitalization.
If East Palo Alto manages to redevelop Infinity Salvage out of existence, it would mark the extinction of the last remaining full service "auto-recycler" in San Mateo County. With the loss of this business residents and tow companies would have fewer options for dumping off unwanted cars.
As Baker sees it, Infinity Salvage provides a very important but undervalued service. "Every time you buy a brand-new car, you don't think about it, but some day that car is going to die and then I go to work," he said.
For the past 28 years, the salvage king has taken cars from every city in the county -- often picking up autos from an owner's home. Once the junker is in Baker's hands, a crew of seven rips out useful parts for resale, drains toxic fluids and sends the stripped carcasses off to a metal recycling plant in Redwood City.
He keeps only 10 percent of the more valuable vehicles on hand with the hoods up to show off their wares.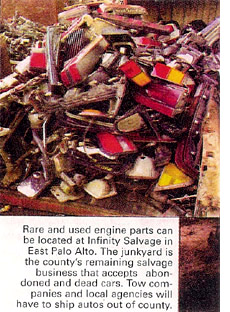 Baker touts Infinity Salvage as the only place where a customer can choose a used motor off a shelf or ask an employee to pull a part from a car. People from all over the county come to buy his hard-to-find used parts, he said. Residents and tow agencies also drop off dead vehicles -- something which has become increasingly difficult to do within county boundaries.
Many Peninsula tow agencies pick up abandoned vehicles for law enforcement agencies for free, hoping to collect on tow and storage costs from the owners. When no one claims the car, however, the tower may have to eat those costs. Baker took these cars off their hands for free, sometimes even providing a free tow.
Without the East Palo Alto yard, towing companies will have to use dismantlers as far away as San Jose and Hayward. At the very least, it will cost them in time and gas money. At worst, the yards may charge the tow companies to take the unwanted hulks off their hands.
Juan Pozasangre, who operates All Weather Tow in Redwood City. has to junk as many as 40 percent of his abandoned cars picked up for local police agencies. Until recently, All Weather took approximately 25 cars a month to Infinity Salvage but now workers have to tow the unwanted vehicles across the Bay.
Action Towing owner Bill Banks recalled a time when there were several auto dismantlers located in the county, including ones in San Bruno, Burlingame and Belmont. All have since closed.
If the auto yard in East Palo Alto is extinct, Banks said many tow companies may reconsider their arrangements with local law enforcement agencies. "It has gotten to the point -- with property being so expensive to store cars -- that it's difficult to do business," he said. "If it gets to the point that we have to pay to dispose of abandoned cars, people will start to think twice about taking them."
Residents may also have fewer options for legally disposing of unusable vehicles. Citizens can donate old vehicles to nonprofits, many of which will junk them free of charge. However, there are few other attractive options if the remaining county dismantler closes.
Residents can take cars directly to the metal-scrapper, but this process requires fees and department of Motor Vehicle clearance. The only other option is to tow the car across county lines.
East Palo Alto seems more concerned about bringing in bigger business dollars than the fate of the auto salvage business in the county. The city has had a redevelopment plan for the area on the books for the 10 years, but recently officials stepped up measures to remove several unsightly auto-yard businesses out in order to attract office parks and light industrial uses,
To look along dirt-paved Bay Road, where Infinity Salvage operates, it appears the city has not had much success. Junkyards, paint stores and a lumber business still line the street. Infinity Salvage sits next to a chemical plant, and a PG&E substation hums across the street.
City Counsel Michael Lawson said the auto yards are not in line with plans to attract new businesses, which would serve as an "economic engine" for the city
"It is difficult to market the area as stated in the redevelopment plan and attract businesses that generate revenue," said Lawson.
Considering tbe economic downturn and high office vacancy rates, developers have not come running to build on Bay Road, Baker pointed out "I'm willing to go into development when it comes, but I would like to be able to support my family until then."
Today the East Palo Alto City Council will decide whether to grant Baker and neighboring yards a reprieve allowing them to stay in business for one year. Baker is one of the few businesses prepared to fight City Hall to hang on to his livelihood. Others have already shuttered their doors. A "For Sale" sign hangs ominously on another junkyard down the street, but Baker and nearby B&S Towing and Dismantling are fighting to stay.
Baker claims the city originally said he could continue to operate on a year-to-year basis until redevelopment plans emerged. When he learned otherwise last spring, Baker started to malce calls and write letters. More than 30 Customers and tow operators showed up to voice their support at the last City Council meeting, but Baker's story has so far yet to move any local officials.
"I have sent every city mayor, and every police chief in the Peninsula a letter," he said. "So far I have gotten no support from San Mateo County."
In December, Jerry Hill, then president of the Board of Supervisors, did contact Baker, but only to deliver the news that the county would not meddle in city affairs. "I don't know if it's something we really have a stake in. This is more of a local issue and it's a land use issue," said Hill.
Police departments have also been reluctant to take sides. San Carlos Police Chief James Granucci, who directs the countywide Abandoned Vehicle Abatement Authority. did not see Infinity's pending closure as a problem. "It really has no impact on my end, though it may impact specific arrangements for some cities. I don't see it as significant issue," he said.
Several area tow companies say they will feel the impact, however. They have arrangements with the county Sheriff's Office, city police agencies and the California Highway Patrol to pick up abandoned vehicles. Granucci estimated that law enforcement agencies ordered 4,000 abandoned vehicles to be towed last year. The Abatement Authority was able to make the owners move or tow away another 25,000 vebicles.
Lawson said city staff would make no recommendations, leaving any action up to the City Council. The East Palo Alto police stopped Baker from taking in new cars on Jan 2. Down to a crew of two, he is still shipping junked car carcasses out of the yard, but he is making little income.
With the fate of Infinity Salvage still very much up in the air, Baker says he has only two ways to save his business, "Change tbe city council's mind or get an attorney."